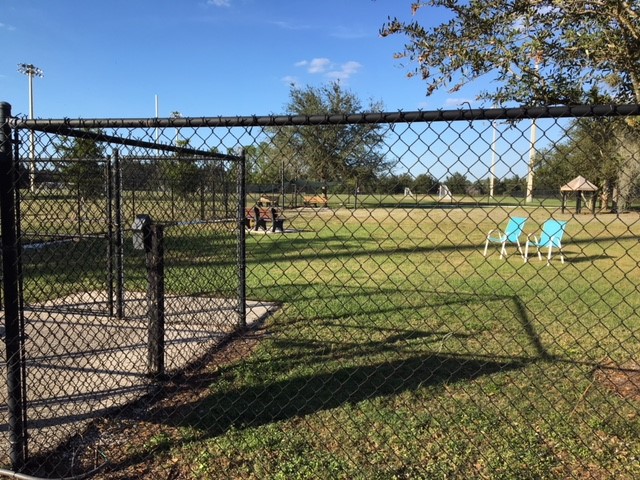 Dog Park
All Dogs must be registered in order to gain access to the dog park. Key Card is required for entry.
Location
13260 Griffin Drive, Fort Myers, FL 33913
Hours of Operation
Daylight Hours Only
The Dog Park will be closed Thursday mornings from 7-Noon for Routine Landscape Maintenance. For you and your pet's safety, the entry gates will be locked during this time. Thank you for your cooperation and understanding.
Overview
Gateway Community Development District's first Dog Park provides a place for dog owners to let their pets run free safely and legally without a leash. The park is approximately one acre and is located adjacent to the Sherman Soccer Complex. The dog park has two fenced areas, one for large dogs and one for small dogs.
Dog Park Rules
Lee County Ordinance #09.20 States any animal not under the restraint, confinment or direct control of the owner is considered to be "Roaming at Large" and a violation of the ordinance.
Dog Owners should have immediate and continuous physical control of an animal at all times; such as by means of a fence, leash not to exceed six (6) feet in length, cord, or chain of sufficient strength to restrain said animal (excluding herding dogs).
Amenities
Six-foot high chain link fence with electronic gate access
Area for large dogs
Area for small dogs
Shaded areas
Dedicated parking area
Benches
Water stations
Pet play equipment
Pet waste cleanup areas provided
Annual Memberships and Fees
Pet owners can purchase an annual membership. Membership cards will allow entry through an electronic gate.
Registration fee: Gateway Resident: $35 per year and Non-Gateway resident fee: $125 per year by check, money order, VISA, Mastercard, or Discover( 1.35% processing fee with a credit card).
With the card access system, Gateway can:
Require proof of vaccinations for the health and safety of humans and dogs
Offset operating costs through memberships and fees
Track usage to plan for the future
Promote registration of dogs within Gateway
Registration Documents and Requirements
Produce proof of vaccination and spay/neuter documentation. Review, agree to and sign the Acceptance of Terms. Once registered, a Gateway Dog Park pass card will be issued for access through the safety gate.
Bring all of the above plus the Registration or Renewal Form, to Gateway CDD
Main Office, 11922 Fairway Lakes Drive, Fort Myers, FL 33913, or email to:
CustomerCare@gatewaydistrict.org.
mdocs-cat-10

| | |
| --- | --- |
| Dog Park Application and Renewal Form | Download |